Jazz Recital Band
The Jazz Recital Band at Arkansas State University rehearses on Fridays at 1:00 PM. This is not a class and there is no grade. Jazz musicians and composers are invited to participate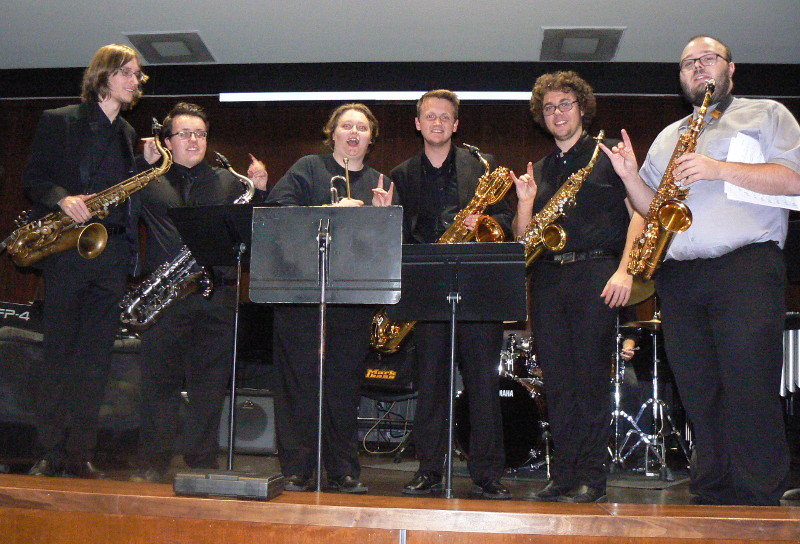 Here's our recital from Fall Term, 2017. Recorded December 8, 2017, we played compositions by Larry Heyl and Kirk Kalson. We closed the show with two jazz standards.
Jazz Recital Band
Playing Arkansas State University Jazz Composers
Fine Arts Recital Hall
December 8, 2017

01 Ensorcelled
02 talk
03 Today Is Not Promised
04 talk
05 Forever
06 talk
07 Wood Sprites
08 talk
09 Nature Boy
10 talk
11 Donna Lee

"Today Is Not Promised" by Kirk Kalson
"Ensorcelled", "Forever", and "Wood Sprites" by Larry Heyl

Musicians

Tyler Remagen - bari and tenor sax
Parker Newberry - tenor sax
Dean MacDonald - tenor sax
Jonathan Vickers - alto sax
Chase Hoots - alto sax
Sid Davis - trumpet
Alex Washam - drums
Sean Cunningham - drums
Emily Lindley - piano and vibes
Larry Heyl - piano, guitar, and vocals
Spencer Rawlins - bass

Photos by Vivian Heyl

Click here for more photos and free downloads at the Live Music Archive.